Braised Belgian Endive
serves 4

8
whole heads of Belgian Endive
cored
2
tablespoons butter
3
tablespoons lemon juice
1/2
teaspoon salt
1
tablespoon sugar

Lightly saute the Belgian Endives in butter in a shallow pan, over a hot fire. Turn the Belgian Endives after one and half minutes to saute both sides. Add the other ingredients. Cover the pan and let simmer for about 25 minutes. Braised Belgian Endive enhances the taste of the accompanying main course. Serve Braised Belgian Endive with red meat, veal, poultry, game.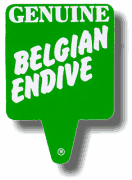 ---
Introduction | Making the Most | Recipes
Feedback | Links | Home Page
---
Belgian Endive Marketing Board
BEMB
E-mail. belgianendive@1webblvd.com