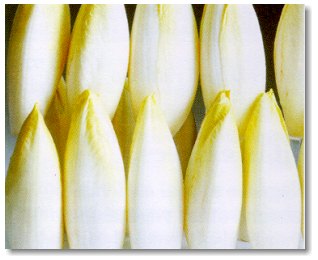 Sell the versatility: Operators can bake it, broil it, braise it, baste it, sauce it, serve it in soups, salads, and in appetizers. Each is a patron pleaser and profit maker.

Sell it for catering and cooking. Use our free recipe book: "Belgian Endive: The Unexpected Pleasure" - as the guide.

Sell the shelf life. Only Genuine Belgian Endive stays fresh for several weeks - and shrinkage is eliminated . . . no waste, no throw-aways. Sell every head and every leaf.

Tell your customers how to handle it. Keep it dry. Keep it cool (38°). Keep it in the shade. Trim the stem end to peel the leaves, use the entire head in cooked preparations.

Stress the nutrition story. One calorie per leaf. High in minerals. Low in sodium. (No other vegetable can match that).

What to look for? First should be Genuine Belgian Endive; with creamy white, tightly closed heads, 6 inch to 8 inch long, light yellow points. 5 to 6 heads per pound, 70 leaves to the pound.

Genuine Belgian Endive comes on skids, stacked 6 bundles high, each bundle consists of two 10lb boxes, 72 bundles (144 boxes) per skid. Never stack more than one skid high. Emphasize that only Belgian Endive is the genuine true endive.