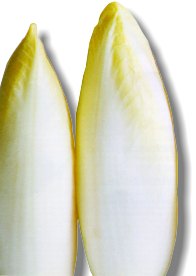 Genuine Endive is deeply rooted in Belgian history. These tangy, tender and delicious white vegetables were actually discovered there in 1830.
Today, endive's fame and versatility has spread worldwide. . .as more and more cooks and chefs turn to Belgium for the most flavorful, hardiest, tastiest endive in the world, and the only source for the very best quality endive.
Today, more and more Americans are discovering that their first taste of Belgian endive is an unexpected pleasure and tangy sophisticated flavor is a lasting pleasure to return to time and again. No wonder Genuine Belgian Endive is truly a gift to the world.
Genuine Belgian Endive...
It isn't any one thing.
It's everything.

"Flavor and versatility" are key words, plus "high nutrition"...high minerals, low sodium and one calorie per leaf!
The tangy, deep, well-rounded flavor is unmatched by any other endive.
The flavor changes subtly when endive is steamed, stewed, broiled or baked. Genuine Belgian Endive ranks with the great wines, truffles, caviar and the best saffron. It is the very best of its class.
Suggest it in appetizers.
The tangy flavor is an elegant counterpoint to any topping
Fillings like salmon, caviar, seafoods, cheeses, and specialty dips are perfect patron pleasers.
Sell it in soups.
Cooked, its distinctly muted Genuine Belgian Endive flavor adds subtle touches.
Perfect for "Soupe de Bruxelles"- and other cream or meat soups.
Popular in meat based soup and stews, too!
Sponsor it for salads.
Adds superior value-perception to salads at minimum cost (see our chart).
Creamy white Genuine Belgian Endive color and tangy flavor really shine in salads.
Perfect with arugula, lettuce, watercress and radiccio.
Ideal with oil and vinegar-based dressings.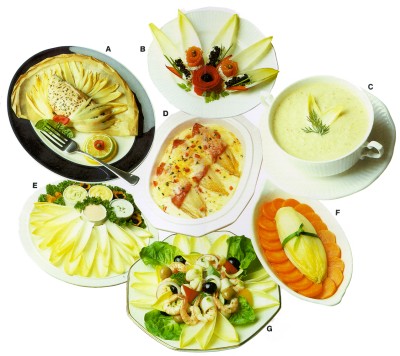 A. Belgian Endive and Salmon en Papillote
B. Belgian Endive Flower Appetizer
C. Cream of Belgian Endive Soupe de Bruxelles
D. Belgian Endive au Gratin
E. Blue Cheese Dip
F. Braised Belgian Endive
G. Belgian Endive Seafood Salad
Specify it in entrees.
Adds elegance appeal and value to meats and other vegetables; whether braised, baked, sauteed, or sauced.
Cooked endive dishes are culinary treasures that can be "signature" specialties as a main meal.
Excellent food cost, too!
The Belgians Call Endive "White Gold"
You will call Belgian endive your "golden opportunity" for bigger sales, better profits:
In foodservice, fresh produce purchases grew 33% last year alone, while salads continue to grow in popularity.
Foodservice operators are looking for distinctive foods, "specialty" items and signature combinations to set themselves apart.
Pricing on specialty vegetables, salads and vegetable entrees are approaching meat entrees, making endive the perfect profit sell.
The value perception is great, the serving cost is low (see chart).